Tallahassee's Chiropractor for Back Pain
Let us help you with your back pain today!
Back pain, particularly in the lower back, is a common reason why people seek chiropractic health care.
Anything from an injury to obesity to serious degenerative conditions can cause chronic lower back pain.
If you're a resident of Tallahassee and are suffering from back pain, chiropractic treatment from Dynamic Medical Center may work to relieve your condition and help you enjoy an improved quality of life.
The most common type of pain reported by patients
25% of U.S. adults reporting LBP in the prior 3 months.
Insured patients who sought care for low back pain (according to the CDC)
Almost 14% of were prescribed opioids.
Lower back pain is frequently classified based on several clinical characteristics, including duration of symptoms.
Acute back pain is often defined as lasting less than 4 weeks.
Subacute back pain lasts 4 to 12 weeks.
Chronic back pain lasts more than 12 weeks.
Source: CDC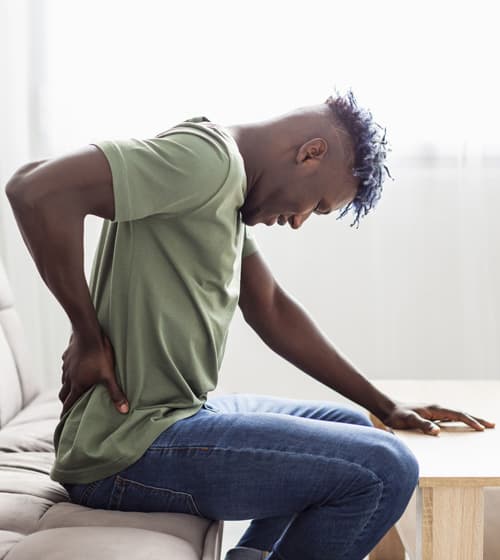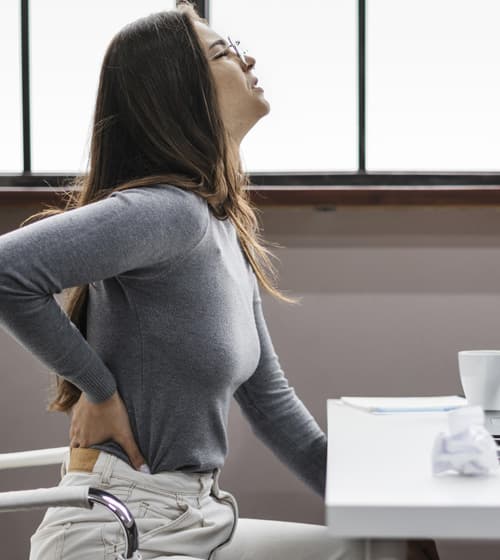 Medication - Cure or Cover Up?
Have you ever seen a medication advertised on television touting how it helps lower back pain?
Those ads are likely selling a drug like Tylenol which covers up the pain and eases your symptoms. It's kind of ridiculous to take Tylenol to mask a condition that could be caused by bad posture, diabetes, or another underlying disorder such as liver disease.
Every day people walk in with lower back pain thinking an over the counter medication will solve the problem for them forever.
Sadly, this is slightly better than taking prescription antibiotics every day just to treat an infection that keeps returning.
We're here to fix the root of your lower back injury or pain once and for all without relying on any medications.
Examination and Consultation
If you suffer from chronic pain, we invite you to come to our conveniently located office at 1395 Cross Creek Circle for a full examination and consultation.
We'll take the time to evaluate your condition, determine the cause of your pain, and develop a chiropractic treatment plan designed to help you feel better.
You may benefit from a lower back adjustment, which can offer great results, and help you feel better fast.
For ongoing relief, we have diagnostic tools and instruments that aid in the implementation of your treatment, providing lasting results.
And when you come to Dynamic Medical Center, you'll benefit from our:
Helpful, attentive office staff
Flexible hours and appointments
State-of-the-art technology
Dedicated approach to chiropractic treatment and care

You don't have to suffer from a back injury or chronic pain when chiropractic therapy from Dynamic Medical Center may be able to help.
Call us at (850) 402-9061 to schedule your visit.
[1] Hoy D, March L, Brooks P et al. The Global Burden of Low Back Pain: Estimates from the Global Burden of Disease 2010 Study. Ann Rheum Dis. 2014 Jun;73(6):968-74.
[2] Deyo RA, Mirza SK, Martin BI. Back Pain Prevalence and Visit Rates: Estimates from U.S. National Surveys, 2002. Spine (Phila Pa 1976). 2006 Nov 1;31(23):2724-7.
[3] Carey TS, Evans AT, Hadler NM et al. Acute Severe Low Back Pain. A Population-Based Study of Prevalence and Care-Seeking. Spine (Phila Pa 1976). 1996 Feb 1;21(3):339-44.
[4] Mikosz CA, Zhang K, Haegerich T, Xu L, Losby JL, Greenspan A, Baldwin G, Dowell D. Indication-Specific Opioid Prescribing for US Patients with Medicaid or Private Insuranceexternal icon, 2017. JAMA Network Open. 2020;3(5):e204514. doi:10.1001/jamanetworkopen.2020.4514
[5] Azad TD, Zhang Y, Stienen MN et al. Patterns of Opioid and Benzodiazepine Use in Opioid-Naïve Patients with Newly Diagnosed Low Back and Lower Extremity Pain. J Gen Intern Med. 2019 Nov 12.